At Once upon a time we aim to provide families the very best childcare in Norwich. Set up in 2007 by Julie and John Banbury, we're a family-owned, family-managed business with four nursery schools. All of our settings offer a homely, safe and friendly environment. And our wide range of resources has been chosen to inspire young children.
In 2017, Julie and John welcomed their daughter, Georgia, into the business. We're proud to have two of our nursery schools currently rated as 'Outstanding' by Ofsted and two rated as 'Good'.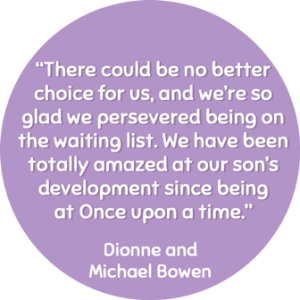 At the heart of everything
Tapestry is an easy-to-use, online learning journal that helps nursery practitioners and parents to record, track and celebrate a child's progress.
From first steps and messy play to learning phonics and new games, there's so much for young children to do, learn and take in during their early years. Tapestry enhances this special time, helping our practitioners to capture children's experiences as well as monitor learning and development. Each child's journal is shared online with their parents, who can see special moments, view their child's progress and even add their own content. Parent involvement is something we promote at all times while your child is at nursery. By working together, we can achieve the very best outcomes for your child.
Text, images and videos are uploaded throughout the day via our hand-held tablets. Every entry helps to create a complete story of a child's time at Once upon a time.
Tapestry covers the Early Years Foundation Stage (EYFS) Key Stage 1 (KS1) and Key Stage 2 (KS2), and is designed to simplify and improve recording within these curricula. It is used by hundreds of nurseries, pre-schools and schools all over the country. Each setting receives its own web address and secure log-in details, as well as full viewing and editing controls.
When your child leaves Once upon a time we provide you with a memory stick that contains a permanent version of your child's journal as a keepsake. A copy is also sent to your child's Infant School.
The number of children who've attended our nursery schools
The amount of money we've raised for 14 local charities
The number of stories we've read to the children
The number of home cooked meals we've prepared
What happens at nursery?
Our gallery
We work in partnership with...